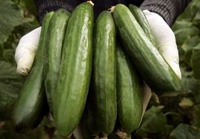 The Health Protection Agency has announced four more cases of E. coli infection in the UK linked to the outbreak in Germany.
It brings the total number of British cases to 11, with all those affected having recently travelled to Germany.
The HPA said there was no evidence of it being passed from person to person in the UK.
British farmers are concerned that the E. coli outbreak in Europe will drive down prices for local producers.
Britain's Health Protection Agency continues to advise that people travelling to Germany should not eat raw cucumber, lettuce or tomatoes and that they should seek medical advice if they have bloody diarrhoea.
Three patients in the UK have developed the potentially fatal complication in the blood and kidneys known as haemolytic uraemic syndrome. Eight have bloody diarrhoea.
While there have not been any cases of person to person transmission, the HPA said maintaining good hand hygiene was very important.
There have been 1,213 cases in Germany of bloody diarrhoea and 520 cases of haemolytic-uraemic syndrome (HUS), which affects the kidneys and can be fatal.
Some British supermarkets have already noticed a slight decrease in fruit and vegetable sales.

'Behaving sensibly'
Sarah Pettitt, the National Farmers' Union horticulture and potatoes board chairman, said the NFU had spoken to all of Britain's major retailers to seek assurances that they were backing British growers and paying an appropriate price for their product.
"So far, I'm extremely encouraged to hear that the major supermarkets are behaving sensibly when it comes to price, and are not using this unfortunate situation as an excuse to drop prices to British growers.
"Cucumbers are a high-cost crop to produce and rising input costs have meant reduced margins for growers in recent years," she said.
Derek Hargreaves of Britain's Cucumber Growers' Association told the BBC on Thursday that he feared the outbreak would affect British producers if the source of the E. coli remained unknown.
"If this keeps rolling on and the Germans don't find the source of the outbreak, then obviously people are going to say 'well, there's no point in listening to experts, they've all got it wrong,' people will stop buying the salads."
Small sales drop
Supermarket chain Morrisons said it had noticed a "small drop in sales of salad items". A spokeswoman said its stores did not stock any fresh salad supplies from Germany.
Tesco, Marks and Spencer and Waitrose said their sales of fruit and vegetables had so far been unaffected by the outbreak.
The Co-operative Group said it was too early to say if the outbreak had affected sales figures "given the relatively poor weather over the past week compared to the same period last year".
A spokesman from Sainsburys said the supermarket chain was unable to give out information on its sales figures.
The company was "working closely with the FSA [Food Standards Agency] and following their guidance," he said.
Spanish fruit and vegetable exporters estimate they are losing 200m euros ($290m; £177m) a week in sales after Germany's initial claim that the outbreak had probably originated with Spanish cucumbers.
No evidence of this has been found and the source of the toxic bacteria is still unknown.